Dear friends and partners:
We had an awesome time ministering in Winchester, KY this week at Church of the Living God!. We saw 19 children born again during this event.
The next 2 weeks we will be ministering at Camps.
On July 6-10 e will be ministering in Vassar, MI at the MI distinct Wesleyan Camp and on July 14 – 16 we will be ministering in Weatherford, TX at the TX District Church of God Camp.
Below is our schedule for the rest of the summer.
JULY 2009
· 6-10 MI District Wesleyan Kids Camp: Vassar MI
· 14-17 TX District Church of God Kids Camp: Weatherford, TX
· 20-22 Hope & Life Fellowship: Snellville, GA
· 23-25 McCullough Christian Center: Atmore, AL
· 27-29 Brown Springs Church of God: Juniper, GA
AUGUST 2009
· 5-7 Spirit Life 4 Square: Bullhead City, AZ
· 9-14 Word of Life Christian Center: Las Vegas, NV
· 16-19 New Hope Assembly: Urbandale, IA
SEPTEMBER 2009
· 9-11 Strong Tower Ministries: Fredericksburg, VA
· 13-15 Dynamic Life Praise & Worship Center: Front Royal, VA
Below are some Pictures from our event in Winchester, KY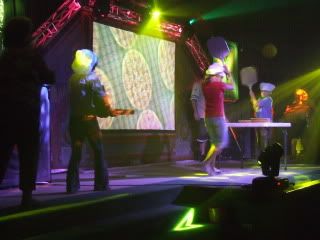 Pizza Flop Game in Winchester, KY

Jerry teaching the Power Verse Put to a Beat

Jerry Praying with children to be born again in Winchester, KY

Jerry & Candy at Natural Bridge in KY while ministering
at Church of the Living God
God Bless You
Jerry Moyer
The Jubilee Gang
www.jubileegang.com
www.facebook.com/jubileegang
www.myspace.com/jubileegang
www.youtube.com/jubileegang