Dear Friends and Partners
We just finished our last 3 events for 2010 this week. During these 3 events we saw around 155 people born again.
2010 has been an awesome year. We traveled over 28,000 miles, ministered in 27 churches and 4 camps in 17 States, Russia & Canada and have seen 1089 people born again this year.
To view Pictures from this years tour season click on the Link below…
http://www.facebook.com/album.php?aid=2045669&id=1039164099&l=2a201795a9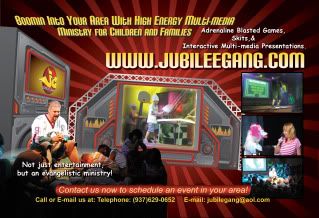 We are scheduling events for 2011 now. To schedule The Jubilee Gang in your area in 2011 contact us ASAP to reserve your date.
God Bless You
Jerry Moyer
The Jubilee Gang
Website www.jubileegang.com
FaceBook www.facebook.com/jubileegang
Twitter www.twitter.com/jubileegang
MySpace www.myspace.com/jubileegang
YouTube www.youtube.com/jubileegang