Dear friends and Partners:
We had a great time in San Antonio, TX at A Place for Life on Oct. 31st. We saw around 30 people born again during this one day event.
We have seen 1070 people born again so far this year! Our next and last event for the year will be at Faith Fellowship in Sayreville, NJ on December 12 – 13.
On February 12 – 22, 2010, I will be going to Russia with my Church. While in Russia I will be conducting several children's ministry outreach events in churches and orphanages, as well as teacher training events for local Russian churches. This will be such an awesome opportunity to take the ministry of The Jubilee Gang to Russia and be a blessing to there children and children's workers.
The cost of the trip is $1800.00. I need around $1000.00 to come in to be able to go on this trip.
If you would like to give toward this trip you can give online on our website through PayPal at https://jubileegang.com Then click on the donate button at the bottom of the front page or send a check to the address below. If you give through PayPal. Please remember that PayPal takes 5% for each donation.
Jubilee Gang Ministries
2119 KittyHawk Ave
Springfield, OH 45503
Below are Pictures from our event in San Antonio, TX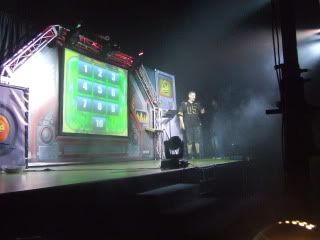 Jerry and a young man playing the Match It Game in San Antonio, TX

Alter call in San Antonio, TX where around 30 people came forward to be born again.
Jerry Moyer
The Jubilee Gang
Website www.jubileegang.com
FaceBook www.facebook.com/jubileegang
Twitter www.twitter.com/jubileegang
YouTube www.youtube.com/jubileegang
MySpace www.myspace.com/jubileegang