Dear friends and partners:
We had an awesome 3 day event at the First Presbyterian Church in Ocala, FL. This was the first event of this kind the church had ever had. Children and parents had an awesome time learning bible truths.

The Children's Director and her 7 1/2 year old daughter came to our event in Orlando last Feb. and her daughter received Jesus and was born again. As soon as we got to the church in Ocala her daughter came up and said " I am so happy because The Jubilee Gang is at MY CHURCH!" She preceded to tell me the power verse that she had learned 7 months earlier at our event in Orlando perfectly put to the beat that we had taught it.

We saw around 35 people born again during this 3 day event in Ocala including several adults. We get to go home for a week before our event at More Life Church in Newark, OH on Oct.
5-8
Our schedule for the rest of the year is below…
Oct.
5-8 More Life Church: Newark, OH
Oct. 19-21 Bethel Tabernacle Church of God: Frankford, DE
Oct 24-26 Abounding Grace Church: Schenectady, NY
Oct. 27 Core Church of Troy: Troy, NY Inner City Outreach
Oct. 31 Word of Faith: Jackson, MS
Nov. 8 Upper Valley Community Church Kids Matter Conference: Piqua, OH
Dec. 13 Faith Fellowship Ministries: Sayreville, NJ
Pictures from our event in Ocala FL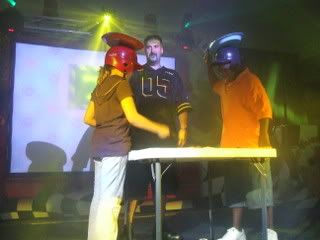 Breakfast food flip Game

Jerry and a young lady playing the match it Game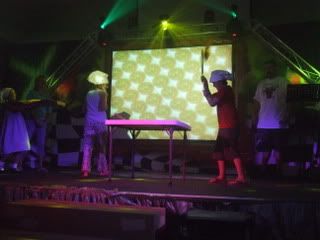 Pizza Flop Game
God Bless You
Jerry
The Jubilee Gang
www. jubileegang. com
www. myspace. com/jubileegang
www. youtube. com/jubileegang