Dear Friends and Partners:
We had an awesome time ministering in Kirtland, OH this weekend at New Promise Church. We saw 13 children born again during this 3 day event.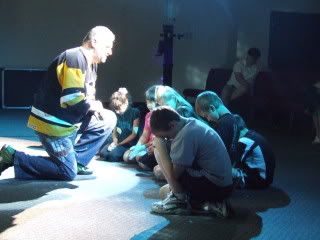 Jerry praying with children in Kirtland, OH
Our Summer schedule is below.
We still have a few dates avalible during the summer and Fall.
Check our website for availability.
MAY 2009
· 1 Sonshine Club 15 year Celebration: Springfield, OH
· 13-15 Victory Family Church: Perryton, TX
· 17-20 Faith AG: Harrison, AR
· 22-23 Faith First AG: Heber Springs, AR
JUNE 2009
· 5-7 Calvary Christian Center: Hammond, LA
· 9-11 Bethany World Prayer Center: Baton Rouge , LA
· 14-16 Columbus First Assembly: Columbus, IN
· 17-19 Dixon Assembly of God: Dixon, IL
· 22-26 Pleasant Valley Evangelical Church: Niles, OH
JULY 2009
· 6-10 MI District Wesleyan Kids Camp: Vassar MI
· 14-17 TX District Church of God Kids Camp: Weatherford, TX
· 20-22 Hope & Life Fellowship: Snellville, GA
· 23-25 McCullough Christian Center: Atmore, AL
· 27-29 First Church of The Nazarene: Winnsboro, SC
AUGUST 2009
· 5-7 Spirit Life 4 Square: Bullhead City, AZ
· 9-14 Word of Life Christian Center: Las Vegas, NV
· 16-19 New Hope Assembly: Urbandale, IA
God Bless You
Jerry Moyer
The Jubilee Gang
www.jubileegang.com
www.youtube.com/jubileegang
www.myspace.com/jubileegang